The Cliffs stretch for 8km (5 miles) and at their highest point are 214m (702 feet).
On a clear day you can see the Aran Islands, Galway Bay, the Twelve Pins and the Maum Turk mountains in Connemara as well as the Dingle Peninsula and Blasket Islands in Kerry.
At the Cliffs there is lots to do for all the family; you can explore The Cliffs Exhibition, browse the Gift Shops with a wide choice of hand made items, when hungry there is a Café and Coffee Shop plus Picnic tables.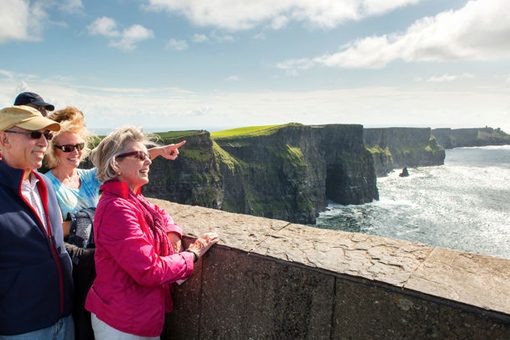 The Cliffs of Moher is one of the major colonies of cliff nesting seabirds in Ireland, over 20 different species nest there. With internationally important numbers of guillemot and razorbill and also significant numbers of puffin, kittiwake and fulmar, the area is designated a Special Protection Area (SPA) for Birds under the EU Birds Directive.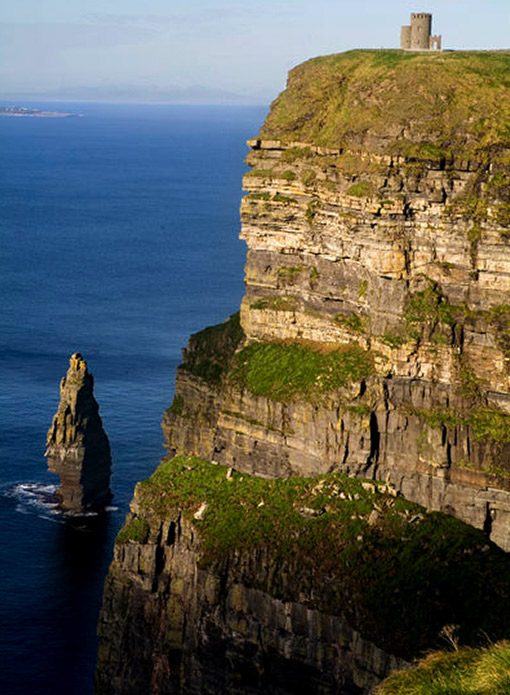 Directions to the Cliffs
You have two options:
Option 1: Take the coast road (R477). This is a very scenic route which gives lots of views of the Burren and Galway Bay. However this adds approximately 20 minutes to your journey time. Follow the R477 through Fanore and join the R459 and then the R478 near Doolin. Stay on the R478 till you reach the Cliffs of Moher.
Option 2: Take the N67 towards Lisdoonvarna which takes you up Corkscrew Hill a winding but scenic road that offers wonderful views over the Burren. You will reach the town of Lisdoonvarna and pass through it remaining on the N67. Turn right onto the R478 signposted for the Cliffs of Moher. The road will follow the coastline with the village of Doolin below you and often the Aran Islands visible on your right.
The R478 climbs a steep hill before curving sharply to the right. The entrance to the carpark is on the left hand side of the road.
Journey time from Ballyvaughan 45 minutes, from Lisdoonvarna approx 25 minutes.