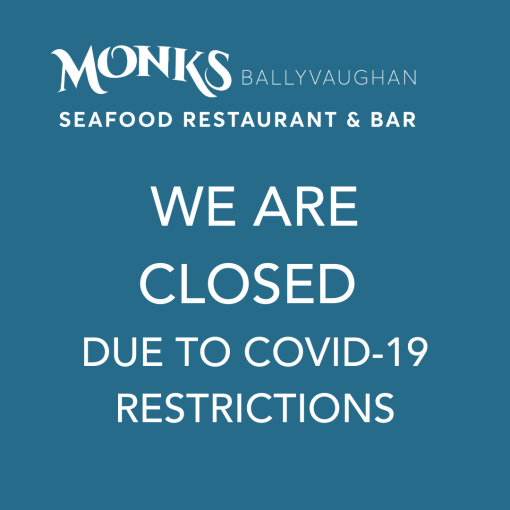 Closed due to Covid-19 restrictions
6 October 2020
Monks Ballyvaughan, Seafood Restaurant & Bar, will close from midnight tonight October 6th 2020 due to Covid-19. The Government of Ireland has placed Ireland on Level 3 restrictions under the Plan for Living with COVID-19.
Restaurants and cafes (including bars/pubs serving food/wet pubs) may remain open for take-away and delivery and outdoor dining/service to an absolute maximum of 15 people.

From Department of the Taoiseach
Unfortunately, at this time take-away, delivery and outdoor dining is not viable for our business.
Thank you for your understanding.
Stay safe and protect yourself and each other by wearing a mask.
https://www.gov.ie/en/campaigns/resilience-recovery-2020-2021-plan-for-living-with-covid-19/