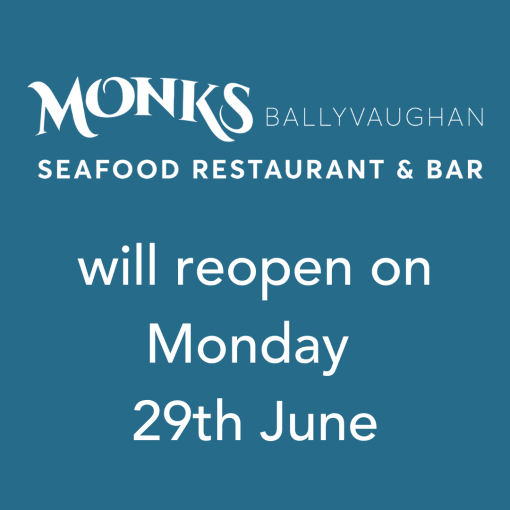 Monks Ballyvaughan, Seafood Restaurant & Bar, will re-open
17 June 2020
Monks Ballyvaughan, Seafood Restaurant & Bar, will reopen our doors on Monday June 29th, subject to Irish Government advice, guidelines and regulations.
We will be undertaking the appropriate training, certification and safety measures to ensure that all those dining with us will have a safe, comfortable and enjoyable experience here in Monks Ballyvaughan.
We really appreciate the support you have all shown us during these past few months and we cannot express how much our team is looking forward to welcoming you back to Monks.
We strongly advise you to book a table directly with us as we know that some people will be keen to secure a table early! So please email info@monks.ie or call us on 065 7077059 to avoid disappointment.
We look forward to seeing you soon.